Country Report: Freedom of movement
Last updated: 23/02/22
Asylum seekers' freedom of movement can be restricted to a particular area or administrative zone within Bulgaria, if such limitations are deemed necessary by the asylum authority, without any other conditions or legal prerequisites.[1] The asylum seeker can apply for a permission to leave the allocated zone and if the request is refused, it must be motivated. Such a permission is not required when the asylum seeker has to leave the allocated zone in order to appear before a court, a public body or administration or if he is need of emergency medical assistance. The permitted zones of free movement should be indicated in each individual asylum identification card.[2]
Consecutive failure to observe the zone limitation can result in placement in a closed centre until the asylum procedure ends with a final decision.[3] It was not before September 2017 when the government formally designated the movement zones.[4] These consist of zones covering designated geographical areas around the respective reception centres. The following map illustrates the zone around Sofia: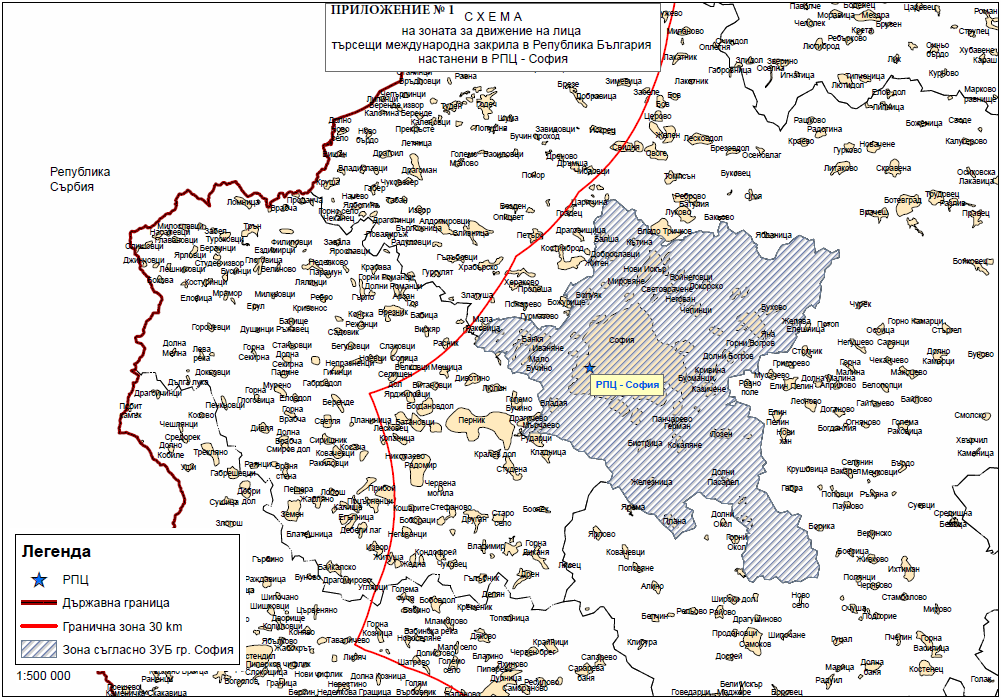 However, since then, the SAR has not applied this as a ground for detention in a closed centre. At the end of 2017 information boards were placed in all reception centres indicating the respective movement zones applicable for the asylum seekers accommodated therein. In 2021, the SAR applied asylum detention on account of the person's attempts to leave Bulgaria in 9 cases.
[1]           Article 30(2) and (3) LAR.
[2]           Article 44(1)(11) LAR.
[3]           Article 95a LAR.
[4]           Council of Ministers, Decision No 550 of 27 September 2017.